The main event of the UFC 182 was one hell of a fight! Cormier was the most skilled opponent Jones has ever faced and Jon beat him, proving that not only is he the best light-heavyweight in the UFC, but the best pound-for-pound in the world. A combination of ridiculous physic, unorthodox striking and world class wrestling skills. Jon Jones is a complete fighter. And, being only 27 years old, get's better each time he steps into the Octagon.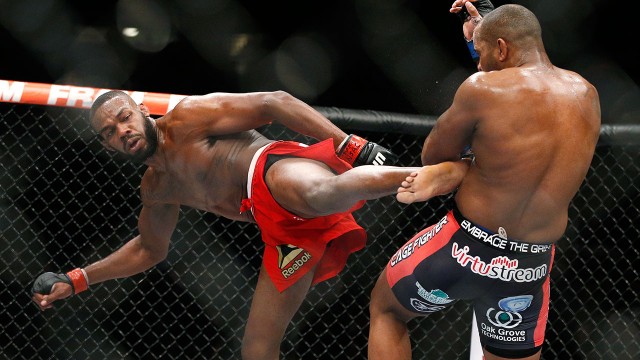 Jon Jones' side kick to the body against DC
In the 1st round Jon Jones was using his reach advantage to distance Cormier and effectively using his elbows while clinching. He took DC down and it was the first time in the Daniel's MMA career that he allowed it. Make no mistake about it - Cormier is the Olympics level wrestler, who used to fight in heavyweight and nobody before Jones couldn't cope with his wrestling. He was throwing Dan Henderson, who is MMA legend, like a training mannequin. Although Cormier ended the 1st round really well. He was cutting the distance and delivered a few solid uppercuts in the clinch. 2nd round was similar to the end of the 1st. DC was more effective and delivered some more uppercuts, while clinching and caught Jon with some body kicks. 3rd round, although very close, was scored for Jones by the judges. Both fighters were throwing bombs. The champion ended the 3rd round at his back after missing a pull of the guard. 4th and 5th rounds - called also championship rounds - were scored for Jon Jones. Cormier reached his top during 2nd and 3rd round. "Bones" took DC down other two times and won by unanymous decision 49-46, remaining the light heavyweight division champion.